The Shoulders Routine of Captain America
The routine of Captain America's shoulders is a serious training that you should try, especially if you want more volume, so let Chris Evans himself train you with these exercises.
"What I like most is to exercise the shoulders," says Chris Evans, the actor you'll best place as Captain America. Add this routine (twice a week) to transform your shoulders into those of a Marvel superhero.
LATERAL ELEVATION
(Three series of 15 repetitions)
Stand up with your legs spread to the width of your shoulders and knees slightly bent. Hold a dumbbell with each arm and break them on your sides. Elevate the arms laterally until they are aligned to the shoulders, so that your body forms a 'T'. Use a lightweight that allows you to perform each of the repetitions correctly. Captain America uses dumbbells of 12 to 15 kilos. "There is no compromise with the weight."
FRONT ELEVATION
(Three series of 15 repetitions)
"This exercise stimulates the front of your shoulders," Chris adds. Standing with the legs open to the width of the shoulders, and with the knees slightly bent. Hold a dumbbell with each arm and break them on the front of the thighs, palms facing towards them. Tense the abdomen, keep the back slightly arched and, slowly, simultaneously raise the arms until they are parallel to the floor, try to always be straight.
MILITARY PRESS
(Three series of 15 repetitions)
Hold a bar on top of your shoulders. The hands should be the same width as these. Now stretch your arms up so that the weight is on your head. Evans prefers to use the machine to do this exercise. "When I do the military dumbbell press I push my chest too far forward, which puts pressure on my spine. I use the device to maintain more control during the whole movement, and this allows me to increase the weight I lift without hurting my spine, "explains the actor.
INCLINED LATERAL ELEVATION
(Three series of 15 repetitions)
Stand face down on a tilted bench (45 degrees). Hold
a dumbbell with each hand under you with your palms facing each other. Keep your elbows slightly bent. Then, pull the arms sideways and backward until they are parallel with the floor. Return to the starting position. Now the transformation can be completed.
10 recipes for healthy and delicious smoothies
Smoothies are a healthy and fun option for those who have trouble eating fruit or vegetables. This is why in this article we explain some simple and easy fruit smoothie recipes to provide the body with nutrients and healthy energy.
Smoothies are very easy to make and contain many vitamins since the main ingredients are fresh fruits and vegetables. Thus, they are perfect for a healthy breakfast or a fruity snack.
In addition, smoothies ensure that daily nutritional needs are met. In everyday life, often so stressful, it is not always easy to take enough vitamins. Many times we cannot reach the recommended amount of five servings of fruits and vegetables per day.
Simple and Easy Fruit Smoothie Recipes
What are smoothies?
Smoothies are like fruit smoothies. Unlike conventional fruit juices, which consist of the pressed juice of a fruit, in milkshakes, all the fruit is processed, to the peel and seeds. The base of the shakes is, therefore, the pulp of the fruit or the fruit puree, which is mixed with the juices according to the recipe, to obtain a creamy and creamy texture.
Originally, there were milkshakes only in the US Smoothies that are now commercially available in many countries as an industrial product or at stalls: they offer a quick way to enjoy fruits and vegetables.
What are they made of?
There is no clear definition of the ingredients in a smoothie. As for the recipe and the ingredients, there are very different products on the market, and they are all sold under the term "smoothie". Therefore, many drinks offered as such are not significantly different from fruit juices.
However, the "real" only consist of fruit, that is, pulp or puree of fruit, juices and possibly pieces of fruit. Often, banana is a basic ingredient. There are also smoothies with a serving of vegetables, yogurt or milk or other natural ingredients such as chocolate, green tea and peanut butter.
With the above in mind, it 's time to try some of the best smoothie recipes.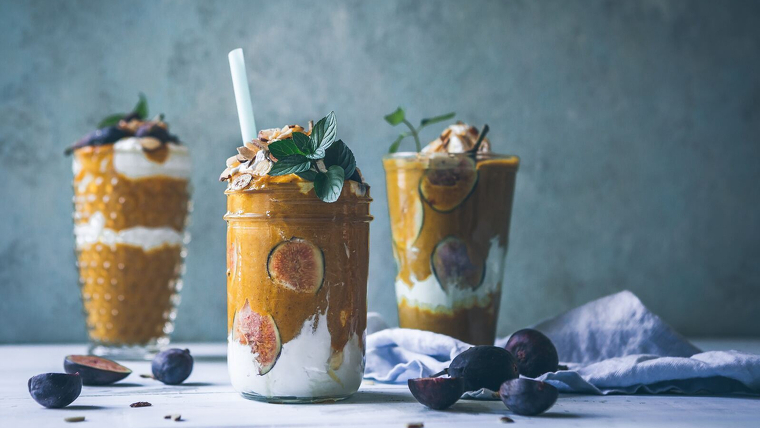 Smoothies can carry fruits, vegetables, dairy or cocoa.
10 healthy and original smoothie recipes
Next, we discover 10 original and tasty smoothie recipes made with fruits and vegetables of all kinds. In addition they are all very easy to make, just clean and peel the fruits and / or vegetables that need it and pass all the ingredients through the blender.
1. Mint and Mango smoothie Recipe
A smoothie is so fresh and so tasty that you can't stop drinking it.
Ingredients:
1 handle
1 handful baby spinach leaves
Ice cubes
Fresh mint as desired
2. Coconut and Raspberry smoothie Recipes
Coconut and raspberries are a fantastic combination: to add flavor you can also add coconut flakes.
Ingredients:
2 cups fresh or frozen raspberries
2 cups tender spinach
1 cup of coconut water
1/2 cucumber
1/2 avocado
3. Tropical Green Smoothie Recipe
Pineapple Smoothie Recipe
The combination of pineapple, mango and ginger give the smoothie a tropical flavor.
Ingredients:
½ head of romaine lettuce
1 cup pineapple
1 large handle
1 piece of fresh ginger
4. Smoothie Recipe for Weight Loss
(Smoothies Recipe with Spinach)
Good for body and mind!
Ingredients:
1 avocado
1 large cucumber
2 cups spinach
2 large kale leaves
2 cabbage leaves
3 lemon juice
1 green apple
1.5 cups of water (or optionally coconut water)
5. Green smoothie with Kiwi and Avocado Recipe
The avocado makes this smoothie recipe deliciously creamy and the kiwis complete the flavor perfectly.
Ingredients:
2 cups of water
2 kiwis
1/4 cup bananas
1 handle
10 kale leaves
1 avocado
6. Smoothie 'Green Goddess'
Smoothie recipe with mixed Fruits and Vegetables
We love pears! And they give this smoothie recipe a pleasant sweetness. It is also ideal for beginners in the paradise of green smoothies. You can always add spinach or cabbage to intensify the "green" flavor.
Ingredients:
2 bananas
2 pears
6 cabbage leaves
1/2 cup coconut water
7. Wheat Grass Smoothie
Smoothie Recipes for Breakfast
Wheatgrass has many benefits and this smoothie recipe gives you the energy and nutrients you need to spend the day.
Ingredients:
2 bananas
1/2 avocado
2 cups fresh wheatgrass
1/2 salad leaf
1 handle
1 cup of water
8. Chocolate Smoothie Recipe
A dessert to drink!
Ingredients:
1 cup of frozen berries (raspberries, strawberries, blueberries, etc.)
1-2 dried and boneless dates
A little fresh mint
1 cup coconut milk or almonds
2 tablespoons cocoa powder
A few chocolate chips at will
9. Banana, strawberries and Blueberry Smoothie Recipe
Blueberry Smoothie Recipe
One of the most classic smoothies!
Ingredients:
1 banana
1 cup frozen strawberries, blueberries, cherries
1 orange
Ice cubes
Some yogurt
1 teaspoon honey
10. Extra-energy banana smoothie Recipe
Smoothies Recipe with Spinach
The perfect post-workout shake recipes for before or after sweating. This smoothie recipe enriches full of protein. This smoothies recipe is best for weight gain.
Ingredients:
1 banana
1 cup tender spinach
1 tablespoon flaxseed flour
2 tablespoons protein powder
1 tablespoon maca powder
Coconut water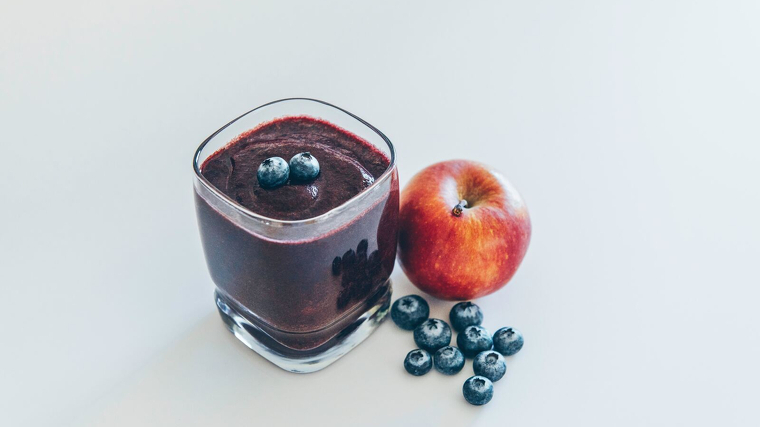 We must not forget that smoothies do not replace the intake of whole fruits and vegetables.
The benefits of fruits and vegetables
With its low energy density and high content of essential nutrients, fiber and phytochemicals, fruits and vegetables have numerous health benefits. They also play an important role in the prevention of obesity. Fruits and vegetables are very abundant due to their high water and fiber content and the associated low energy density. Thus, they are ideal for nutrition.
At the same time, they generally do not contain unhealthy fat and have a high nutrient density. The current recommendation of the DGE for adults is the daily intake of about 400 g of vegetables and 200-250 g of fruit.
In practice, the recommendation is "five a day", which means five servings (1 serving equals 1 handful) of fruits and vegetables a day. Due to a large amount of phytochemicals, the entire range of vegetables and fruits should be used.
Are they a substitute for whole pieces?
Drinking smoothies, however, does not mean that we can forget about eating raw fruits and vegetables. The content of certain ingredients in them is higher than with juices or smoothies and the energy density is generally lower.
At the same time, whole fruits and vegetables offer a "chewing experience" and a great variety of flavors, which is lost in smoothies. Consumption of prepared foods also means a loss of food culture. The reference to "natural" foods is lost if they are consumed exclusively in (highly) processed form.