The British royal family abides by many well-known traditions, but it is also said that they have some strange habits in regard to their diet.
However, it is not only the extravagant magnificence of their meals and traditions that is fascinating but also the peculiarities of the day to day that each of them enjoys, far from the protocol. The media circus that stalks them 24/7 makes it easy to forget that they are human beings, with foods they hate and small preferences and personal touches that they like to add to their meals. Although of course, there are things like the fact that they are not allowed to drink tap water. It is a strange life.
Harry and William love fast food, especially McDonald's
A prince's diet does not just revolve around lobster trays and caviar. While Prince Harry and William are royal princes of birth, they are known to have palates like any mortal. The personal ex-chef of the royal family, Darren McGrady, said in an interview that Princess Diana herself spoiled them from time to time with junk food. "I remember that on one occasion she said 'Cancel lunch for the children I'm going to take, we go to McDonald's' and I said' Oh, my God, your royal highness, I can do that, I can make hamburgers. 'And she said:' No, it's the toy they want. "Yes, the boys loved McDonald's, and they went out to eat pizza and ate potato skins, something like American food." We do not blame them. McDonald's chips are addictive.
Philip once had the staff exchange dinners with him.
Although it may be a general rule that more sophisticated dinners require smaller portions, Prince Philip certainly abides by a different rulebook. McGrady shares: "Prince Philip went into the kitchen and said, 'What about dinner tonight?' And I said, 'I have these little cuts of lamb for you, your Royal Highness.' He looked and said, 'What is that, what are they?' And I said, 'Oh, those are chops, Your Highness.' "I wanted to know who they were for, and I said they were mine." And he said, "Oh, can not I have that better?" "The real chef says that in that occasion ended up giving him the biggest meat pieces, even if they were not as sophisticated as the lamb.
No Garlic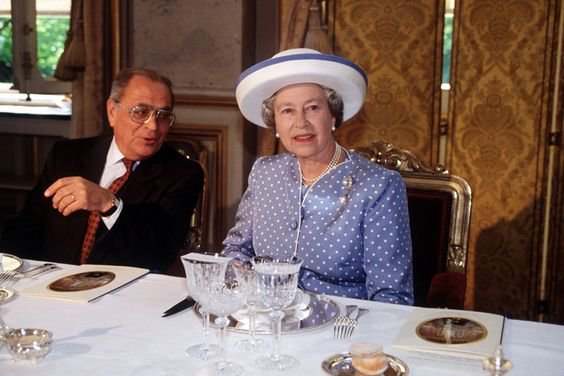 Garlic is basic in any kitchen to flavor food but in the Palace, it is forbidden. It is not because it is a particular risk, but because the queen forbids it completely. According to John Higgins, an ex-chef of the palace, you could never serve anything for lunch or dinner with too many things (or with onions). The theory says that this is to avoid the greatest side effect of garlic: bad breath.
Containers for food everywhere
Believe it or not, in the palace they often resort to containers known as tuppers to store the remaining food. The queen detests wasting so she does not tolerate that food is wasted and she is able to eat leftovers in order to eat everything. So, if there was leftover roast lamb one night, the next day's meal could be Shepard's pie. Undoubtedly, it is something very common in the homes of us mortals, but who would say that also of the British crown.
Once the queen has finished eating, no one else can continue eating
If your Majesty invites you to dinner, you should eat at your own pace or faster because as soon as she lowers the knife and fork. This will be a signal for the waiters to enter to remove all the dishes, even if you had not finished, they would be cleaning the table
Curiously, the Queen was always late for dinner, so they lied about the time
If the dinner is at 8.30 in, the organizers used to tell her that dinner was at 8.15, so she would be on time or elegantly late. "Everyone else would arrive at the agreed time and she would never notice it," said one of the Palace chefs during an interview.
Kylie Jenner now has a net worth of $ 900 MILLION according to Forbes …
Kylie Jenner may be the baby of the Kardashian-Jenner family, but she is on her way to becoming one of the most famous and successful businesswomen in the United States. Kylie Jenner now has a net worth of $ 900 MILLION according to Forbes …
On Wednesday, Forbes revealed its August issue, showing the 20-year-old television star turned beauty mogul, as one of the richest women in the United States appearing on the cover of the women's magazine ranking most successful businesswomen.
Kylie Jenner now has a net worth of $ 900 MILLION according to Forbes … On the way to becoming the youngest billionaire in the world
According to the business and finance magazine, Kyle – who will turn 21 this August 10 – has an estimated net worth of $ 900 million (771 million euros) thanks to his popular cosmetic line.
Once you cross the BILLION BILLION dollar mark, you will dethrone Facebook co-founder Mark Zuckerberg as the youngest 'self-made' billionaire person on the planet.
The magazine estimated its net worth at $ 900 million, similar to Jay-Z, the richest hip-hop industry mogul at the age of 48. (By comparison, the magazine indicates that his famous stepsister, Kim Kardashian, has an estate of approximately $ 350 million.)
In the story that accompanies the cover, Forbes said he estimates that the Kylie Cosmetics brand has earned the sum of $ 630 million (540 million euros) since its launch in 2015.
@KylieCosmetics / Facebook
Even using a conservative multiple and applying our standard 20% discount, Forbes values ​​its company, which has since added other businesses such as eye shadows and concealers, at almost $ 800 million. Kylie Jenner owns 100% of it.
Add to that the millions she has earned from television shows and product endorsements such as Puma shoes and PacSun clothing, and $ 60 million in estimated after-tax dividends she has taken from her company, and then she, moderately, has a value of $ 900 million, which together with her age make her the youngest person in the fourth annual ranking of the "Richest Women by Own Effort of the United States, " says the article.
According to Forbes, Kylie Jenner employs only seven people full-time and five part-time in her company, outsourcing production and sales.
As with all her children, Kris Jenner (her mother), manages her daughter's finances and public relations for a commission of 10%. Last year, that meant Kylie paid her mother $ 17 million (€ 14.5 million).
Millie Bobby Brown: 10 Things You (Probably) Didn't Know About The Star Of "Stranger Things"
At the same time, the most famous and older sister, Kim Kardashian West, who has earned money from multiple businesses, including KKW Beauty, Kim Kardashian: Hollywood video game and its application Kim Kardashian, endorsements and more, has a net worth of $ 350 million (299.8 million euros), according to the magazine.
Who is Billie Eilish and why is everyone talking about it?
What is the net worth of the other Kardashian-Jenner?
Kris Jenner, mom: $ 60 million (51.4 million euros)
Caitlyn Jenner, dad: $ 100 million (85.6 million euros)
Kourtney Kardashian, stepsister: $ 35 million (30 million euros)
Khloe Kardashian, stepsister: $ 40 million (34.2 million euros)
Kendall Jenner, sister: $ 18 million (15.4 million euros)
Source:
How 20-Year-Old Kylie Jenner Built A $ 900 Million Fortune In Less Than 3 Years
'It means having succeeded in life unaided': Forbes faces social media backlash for calling Kylie Jenner to 'self-made' billionaire on cover of latest issue