This was the meeting of Jordyn Woods with Khloe Kardashian after the scandal with Tristan Thompson
Khloe Kardashian said that Jordyn Woods has not been completely honest with her version of the scandal with Tristan Thompson …
Finally, the drama between Jordyn Woods, Khloe Kardashian and Tristan Thompson has been revealed in the last chapter of KUWTK, and according to the Kardashian, Jordyn has not been completely honest with her version of the story, since she has changed it in more than an occasion!
During the episode of June 23, Khloe revealed how her encounter with Jordyn was after discovering her deception with Tristan, and this was what she said:
" Now she says: 'It was not a big problem, it was not intimate, it was not sexual'. Then she said: 'I can not believe this is happening, I'm so confused. '
Every time in the past, if Jordyn ever went out with Tristan, she wrote me a message. Jordyn said, 'I was your guard dog last night,' and she was there to protect me and that's why she stayed so late with him that night. "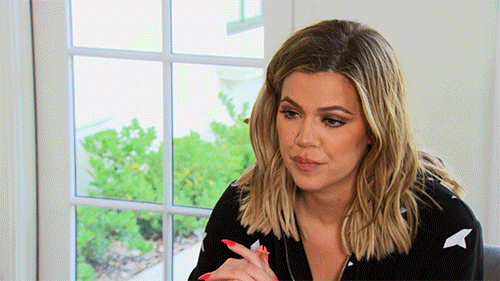 Khloe also assured that Jordyn was not completely honest with her statements on Jada Smith's program, Red Table Talk: " That was not what she told me on the phone at all, which is fine, now she's minimizing it. I'm not saying that things can not happen. I am the most understanding and calm person, but Jordy never said 'I'm sorry' ".
When Khloe confronted Tristan, he admitted the deception by saying: " Jordyn stayed after everyone left the party and was sitting on her lap in a chair. "
Her sister Kim Kardashian said: " At first I think nobody believed it was real. They were super confused and that was it. We were just watching everything develop. Jordyn was someone Khloe really trusted, believed in, supported and employed. This is just crazy. "
Kendall Jenner added: " Jordyn is the LAST person on the planet who would have thought that she would have done this. Even if he kissed her and they took her by surprise … she should have called Khloe and explained exactly what happened. "
Khloe assured that finally, Jordyn admitted what had happened between her and Tristan, which completely broke Kylie's heart.
Do you think Jordyn has finally told the whole truth, or will she continue to hide details to protect herself?
Kylie Jenner now has a net worth of $ 900 MILLION according to Forbes …
Kylie Jenner may be the baby of the Kardashian-Jenner family, but she is on her way to becoming one of the most famous and successful businesswomen in the United States. Kylie Jenner now has a net worth of $ 900 MILLION according to Forbes …
On Wednesday, Forbes revealed its August issue, showing the 20-year-old television star turned beauty mogul, as one of the richest women in the United States appearing on the cover of the women's magazine ranking most successful businesswomen.
Kylie Jenner now has a net worth of $ 900 MILLION according to Forbes … On the way to becoming the youngest billionaire in the world
According to the business and finance magazine, Kyle – who will turn 21 this August 10 – has an estimated net worth of $ 900 million (771 million euros) thanks to his popular cosmetic line.
Once you cross the BILLION BILLION dollar mark, you will dethrone Facebook co-founder Mark Zuckerberg as the youngest 'self-made' billionaire person on the planet.
The magazine estimated its net worth at $ 900 million, similar to Jay-Z, the richest hip-hop industry mogul at the age of 48. (By comparison, the magazine indicates that his famous stepsister, Kim Kardashian, has an estate of approximately $ 350 million.)
In the story that accompanies the cover, Forbes said he estimates that the Kylie Cosmetics brand has earned the sum of $ 630 million (540 million euros) since its launch in 2015.
@KylieCosmetics / Facebook
Even using a conservative multiple and applying our standard 20% discount, Forbes values ​​its company, which has since added other businesses such as eye shadows and concealers, at almost $ 800 million. Kylie Jenner owns 100% of it.
Add to that the millions she has earned from television shows and product endorsements such as Puma shoes and PacSun clothing, and $ 60 million in estimated after-tax dividends she has taken from her company, and then she, moderately, has a value of $ 900 million, which together with her age make her the youngest person in the fourth annual ranking of the "Richest Women by Own Effort of the United States, " says the article.
According to Forbes, Kylie Jenner employs only seven people full-time and five part-time in her company, outsourcing production and sales.
As with all her children, Kris Jenner (her mother), manages her daughter's finances and public relations for a commission of 10%. Last year, that meant Kylie paid her mother $ 17 million (€ 14.5 million).
Millie Bobby Brown: 10 Things You (Probably) Didn't Know About The Star Of "Stranger Things"
At the same time, the most famous and older sister, Kim Kardashian West, who has earned money from multiple businesses, including KKW Beauty, Kim Kardashian: Hollywood video game and its application Kim Kardashian, endorsements and more, has a net worth of $ 350 million (299.8 million euros), according to the magazine.
Who is Billie Eilish and why is everyone talking about it?
What is the net worth of the other Kardashian-Jenner?
Kris Jenner, mom: $ 60 million (51.4 million euros)
Caitlyn Jenner, dad: $ 100 million (85.6 million euros)
Kourtney Kardashian, stepsister: $ 35 million (30 million euros)
Khloe Kardashian, stepsister: $ 40 million (34.2 million euros)
Kendall Jenner, sister: $ 18 million (15.4 million euros)
Source:
How 20-Year-Old Kylie Jenner Built A $ 900 Million Fortune In Less Than 3 Years
'It means having succeeded in life unaided': Forbes faces social media backlash for calling Kylie Jenner to 'self-made' billionaire on cover of latest issue