Priyanka Chopra and Sophie Turner conquer Paris each in their style and even share looks
These last days, Priyanka Chopra and Sophie Turner are in Paris with their respective Jonas husbands where they have been seen spending leisure time in the city of love, even on the banks of the Seine, leaving looks that are well worth seeing more closely.
Priyanka Chopra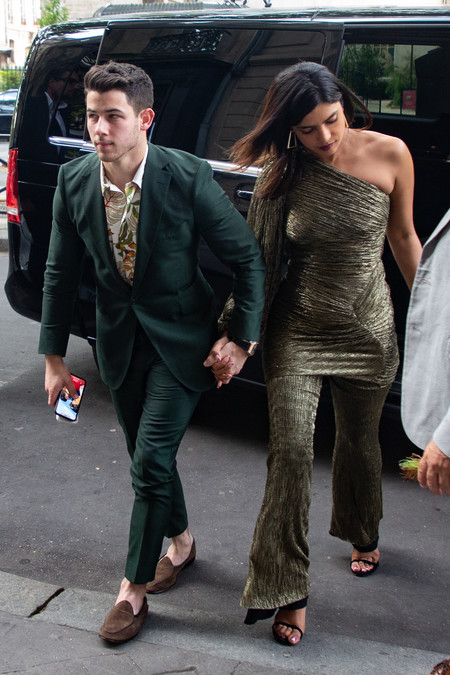 Yesterday night, we could see how both marriages went out to dinner together, which is why the actress took the opportunity to wear this golden Peter Pilotto design, with a draped body of the asymmetric neckline, puff sleeve, combined with flare pants of the same black strappy fabric and sandals.
In the afternoon, Priyanka left us with a much more summery look with this long crossdress by Markarian in coral tones laden with ruffles, which we already know are perfect to wear during this summer season.
For its part, another of the looks with which we have seen these days has been with this jumpsuit V-neck very pronounced in charcoal gray Alberta Ferretti, combined with one of the bags of the moment, the Tote de Dior and boots white of Jimmy Choo. 
Sophie Turner
For her part, Sophie Turner does not fall short with the looks chosen during this trip to Paris, such as Jacquemus' design that she wore for the nightclub dinner, a super sexy white shirt dress that she combined with black patent leather high boots.
For the walk on the Seine, Sophie opted for the comfort of black jeans, white shirt and boots where the yellow laces charged all the limelight.
Meanwhile, another of Sophie's outfit was marked by a plaid blazer, Dior shirt with the message "We Should All Be Feminists", jeans shorts and white sneakers. The perfect look to tour the city if the heat does not press too hard.
A shared look
Finally, we have to make special mention of this look that Priyanka has worn in Paris and which we had already seen in Sophie. A design by Victoria Beckham that both sisters-in-law have dressed, each in her own style, but equally perfectly.
Photos | Gtres
Top 20 celebrities without makeup
Artists and celebrities tend to references for beauty in the world, since every time we see them on the screen they look beautiful and shiny. However, it is worth asking. Is it your natural beauty? 
To discover that much of its charm is makeup, we have to see celebrities without makeup. Perhaps that also helps us discover that our appearance is not bad and that we are all perfect as we are.
The difference between famous celebrities without makeup
1. Pamela Anderson without makeup
The Baywatch star (Bay Guardians), remains a sexual symbol, but without makeup begins to be noticed age.
2. Renee Zellweger without makeup
The Oscar winner can be a great and versatile actress, but she is undoubtedly one of the celebrities without makeup who is most surprised to see comparisons.
3. Julia Roberts without makeup
The "pretty woman" and hollywodense icon shows us that makeup helps the stars a lot. Although we continue to worship her with or without the help of makeup brushes.
4. Kelly Clarkson without makeup
This American Idol star is one of the celebrities without makeup that clearly demonstrates how the stars are as normal as we are.
5. Rihanna without makeup
The beauty of R&B is considered one of the most beautiful women in the world, but this celebrity without makeup can surprise us and make us see how makeup helps to obtain that perfect complexion.
6. Miley Cyrus without makeup
The teenage star is still very young, but she is one of the celebrities without makeup who improve her image much more with the help of the magic of the brushes.
7. Cameron Diaz without makeup
One of the spouses of Americans can make us open our mouths when we see her on celebrity lists without makeup.
8. Jessica Alba without makeup
The Latin bomb is undoubtedly a beauty, but if we see it without makeup makes us think that we can also be part of the list of sexiest women if we put effort into our makeup.
9. Drew Barrymore without makeup
The adorable actress does not change so much, but we prefer to see her with a little make-up to enjoy her beauty as a "girl next door".
10. Jessica Simpson without makeup
The pop diva has a program that talks about the different types of beauty, one of them can be that of celebrities without makeup since in these images it shows us how it is as human as we are.
11. Katie Holmes without makeup
Tom Cruise's pretty wife can be a beauty, but sometimes she needs a little more makeup to shine as she knows how to do it.
12. Kristen Stewart without makeup
The reason for duels between vampires and wolves can certainly be one of the celebrities without makeup that expresses their tiredness through their eyes.
13. Vanessa Hudgens without makeup
This Disney star is one of those natural beauties, but even so, makeup helps you look much better on cameras.
14. Kim Kardashian without makeup
The controversial Kim left us surprised since she is one of the celebrities without makeup who is still beautiful with a washed face.
15. J-lo without makeup
The Latin diva is a darling of the public, so seeing her as one of the celebrities without makeup and knowing that it is like all of us makes us admire her more and we want to follow her makeup tips.
16. Hillary Duff without makeup
The former Disney diva always maintains her image of tenderness, with or without makeup. No doubt the traditional beauty of it shows at all times.
17. Eva Longoria without makeup
The sexy desperate wife maintains her Latin beauty even without makeup, but we like her a lot more when she embellishes.
18. Scarlett Johansson without makeup
She is one of the undisputed beauties of Hollywood. This girl is one of the celebrities without makeup who keeps removing sighs.
19. Penelope Cruz without makeup
The beautiful Spanish has her moments without makeup that make her look like an ordinary woman, but she still looks pretty.
20. Jennifer Love Hewitt without makeup
The star of the nineties is one of the celebrities without makeup that looks divine anyway. Proving that natural beauty does exist.
All of them are beautiful, the genes are noticeable in all cases, but some need a little more help from makeup than others, showing us that they are people just like everyone else. Thanks to these images we realize that Hollywood stars or not, all women have our bad days.