You still have not digested the end of Game of Thrones at the end of season 8? You are not the only ones. Natalia Tena – Osha's interpreter, was appalled by the level of writing and the choices made during the last episodes. Attention spoilers.
An actress angry at the end
With her role of Osha in Game of Thrones, it is logical to think that Natalia Tena loved the end of the series with regard to what was reserved for Bran, a character intimately linked to his. And yet, it is not so. Invited in the podcast White Whine Question Time with Kate Thornton, the actress has indeed claimed to hate everything that was put in place during the final episodes.
Finally almost everything. Natalie Tena still wanted to clarify at first, everything was not to be thrown during this season 8: " I loved it until Arya stabbed the Night King in the heart. I loved it so far. "And then? " After that … I did not understand anything anymore ".
A season 8 "that makes no sense"
Like many other fans, the Osha performer was disappointed with the writing of the latest episodes. While HBO was ready to give more time to creators, the latter – who no longer had George RR Martin's books to adapt – surprisingly claimed to be able to complete everything in just six episodes. It was bad for them, according to the actress: " The level of writing towards the end, with the intrigues, the twists and the way in which all this was concluded, when compared to any other season it gives the impression that it was written by different people, and I personally think it does not make any sense . "
Strong words? Yes, but at the height of his disappointment. If the star ensures not to join some viewers " I do not think I'll go so far as to sign a petition ", she does not stop, the conclusion was missed: " I do not understand why they made these choices (…) I had several glasses of wine in my nose when I watched the final and I started screaming at my boyfriend for almost an hour to tell him how much I hated the end. And then I called a friend and I got upset about it. "
The creative team behind the first spin-off will have a big pressure on the shoulders, that of reconciling the public with this universe …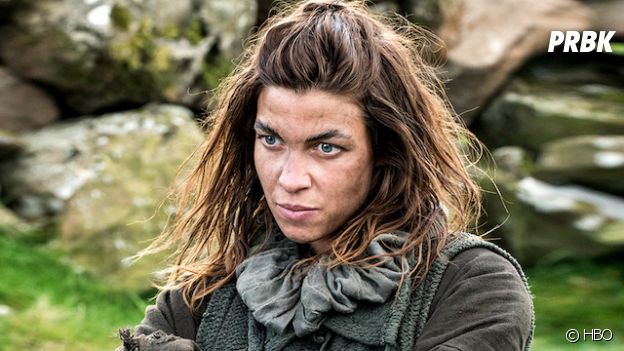 30 Ideas of Hairstyles for Short Hair Very Easy to be More Beautiful
Ideas of Hairstyles for Short Hair – More and more women are encouraged to use short hair even if we are honest this type of haircut is not for any face and is sometimes related to male haircuts although of course, everything depends on the hairstyle that we then do and the face shape that we have so that it fits us really well.
As many celebrities were making short haircuts more and more the trend was increasing and the fashion of short hair prevailed over long hair hairstyles and is something that often influences the length we leave in our head.
To mention some celebrities who cut their short hair we can mention Victoria Beckham, Miley Cyrus, Rihanna, Sharon Stone, Charlize Theron among other famous internationally known.
Do you dare to make a cut in your short hair?
That is the question for those who never made this type of cut although when we cut it short it is because we have a change in our life and it is very consistent that women when we change our look or hairstyle something internal happens through us, you surely understand me and You ever made a radical change in your hairstyle. But if you did not do it, I think it is time to start meditating and if the idea is to have short hair I leave you the most complete and excellent sample of photos with cuts and hairstyles for short hair that you can get.
Within the hairstyles, we have different styles and sizes that we must respect so that they can be done since if we shave our heads we don't have many options. In the different ideas and styles that exist created by recognized hairdressers, we have hairstyles that are straightened, afro, asymmetrical how fashionable it is currently for those who encourage an informal cut, short layered hairstyle, with bangs, with French braids among others.
Then something that we have to evaluate especially who is going to do the hairstyle or ourselves if we have patience and delicacy in front of the mirror, is if our hair is thick or thin since that will influence the hairstyle.
Hairstyles for short hair
I will explain the different haircuts and layered hairstyles that exist for women who want to have short hair as it happened to me and it was one of the best decisions I made in my life regarding having a change of look
HERE YOU HAVE MORE Easy Hairstyles
Hairstyles with Short Hair: Rockabilly Hairstyle
It is a woman's haircut that became very famous from the 50s where rock and roll music was fashionable and Elvis Presley was a reference of the hairstyle with the tupe, in the best style of other references of the music like Jerry Lee Lewis and Johnny Cash.
As I always say, the fashions are recycled and they reappear something that is being used a lot nowadays with the rockabilly hairstyle with the tupe look in the best Pompadour style.
This leads as a derivative of Pin-up hairstyles that were so fashionable among women as a way to demonstrate female liberation, where long wavy hairs on the shoulders were also very fashionable.
They had the characteristic of being collected at the top of the head all the mane but with the characteristic of being hollowed out to achieve the maximum possible volume.
Short Haircuts for Women with Permanent
Achieving those curls with so much volume and flashy was something wonderful that occurred in past decades, mainly in the 60s and 70s, but now it is used again mainly in women who have short haircuts.
You can find different types of curls from the longest and most sensual where love and passion were always reflected and characterized.
Even the smallest curls in the best afro style used by women with brown skin.
Important clarification: do not be afraid of permanent ones because they bring shine to the hair today.
I understand that in past years making you a permanent was to spoil the hair and in the long term until you have hair loss but with current hair techniques that is a problem of the past and it does not happen so cheer up your permanent if you have short hair.
The idea is to gain a lot of curly hair volume and give a thick appearance in the hair, in the best style of women with black pigmentation.
Short Hair Women with Japanese Hairstyle
This type of hairstyle and cut has a lot of influence on the Manga of Japan that became popular.
This type of look is characterized above all by the straight hair and layered cuts.
Short layered hair is of great influence and the form that this hairstyle acquires can be from straight, smooth and asymmetric hairs.
It has the characteristic of having a symmetrical shape on one side of the head and on the other hand part decontracted naturally.
The Japanese straightening arises from this type of hairstyle from the symmetry of ultra-smooth hair and the use of half-cut hair perfectly as if it were a bonsai.
Different types of lengths are used in the same mane to give that effect to Japanese manga and culture and two-colored strands can be implemented.
Short Hair Woman: Bob Hairstyle
This is one of the hairstyles and haircuts for women that I like the most and is one of the next looks that I'm going to do.
I can definitely define it as one of the most classic haircuts of modern feminine trends.
And best of all, it is maintained in a very simple way.
The bob hairstyle consists mainly of having the longest hair from the front than from the back of the head.
Another advantage that allows different hairstyles and styles since it can be a total curly, or with waves, but also a smooth end.
The bangs for this cut are used above the eyebrows.
This year's trend is to use the much more informal and asymmetric bangs to implement in different types of lengths.
It is a very feminine look and looks beautiful if you use it in short hair or in medium hair.
If you like to use the hair straightener, a bob hairstyle is recommended.
Short Hair Cuts: Pixie Hairstyle
It is also called this type of haircut for women elf hairstyle or elf hairstyle and is widely used because it is a fashion and beauty trend this year.
If you want to use a youthful haircut of course this is the most recommended to use.
The secret of the Pixie is that by taking it shorter from the sides of both the left side and the right side and at the back of the neck, you a better fit.
What is the front part of the hairstyle you can take it as you want both short and with bangs, asymmetric or even longer?
You can comb with your fingers or with a comb the tufts combing back with only a few hairs on the forehead.
Many celebrities chose this year to use this haircut among the best-known actresses I can name you Elsa Petaky and Audrey Tautou who are fans of pixie short hair.
Short Haircuts: Garzón Hairstyle
The garzón cut is undoubtedly the best option if you are more classic and you like Pixie hairstyle.
But unlike this cut is more formal and timeless, there is no trend since it is used at all times of the year.
If your personality is more formal and you do not want to attract much attention, it is the ideal cut, this does not mean that you are precious in your face.
In the 60s this cut became fashionable and the hairstyle lasted until today among women who want to forget long hair.
The classic style of the garzón does not mean that it cannot be modern and that you give it a personal touch.
You can add jelly or gel as well as wax to give it a wet or shiny effect.
This serves to mark the hairstyle and the stripe that you use inside it, but if your idea is to use it the most informal look it is best to use it disheveled with your fingers.
Short Haircuts for Women: Punk Hairstyle
It emerges from the end of the 70s with the social and cultural movement of Punk music and then continued as a fashion trend.
Currently, it is used a lot if you are more playful and you like to use short hair but also shaved from the sides.
This is undoubtedly a radical change for any woman where you are going to shave the sides of your head.
Here I leave skinny cuts for women that can help you get new ideas.
Do not forget that the classic crest can also add value if you want to make this kind of rebel look.
Straight hairstyle with a short haircut and a braid that collects part of the hair
Braid behind the head and hair all pulled back with gel to give volume to the hairstyle
Hair collected with an applique that you can use the one you like most picking from the head of the head for very short hair
I cut my short hair and started using a new hairstyle
I tell you my personal case where I encourage myself to go to cut my hair very short but I went to a professional who is dedicated to these types of cuts as well as hairstyles that is the stylist and hairdresser Bebe Sanders the daughter of the renowned hairdresser Alberto Sanders. Undoubtedly, the cut can be a little more expensive when it comes to paying than another neighborhood hairdresser that is not renowned but could not leave a hairstyle and look in the hands of someone who has no experience.
One day when I was watching television, I saw Pamela David, a magazine editor where she made this same radical change that I told her she cut her long hair for a short one, I imagine a change of image that I wanted to make and encouraged me to look for who He made that beautiful cut and that's how I got to Sanders.
I went to her hairdresser and it was without a turn that they attended to you, as you arrived it was that the cut corresponded to you and she recommended me by my face and the shape of my head what kind of cut would suit me to do which I followed her advice and it was the best change I made for my look since all my acquaintances liked me.
To keep in mind that when you have short hair you should have maintenance of going to the hairdresser every two months approximately so that the cut does not deform and you can continue doing the hairstyle that you like the most.
Video with Hairstyles in Short Hair
Images of Short Haircuts
Looking for the most wanted hairstyles I found many of these photos in case you want to change your hairstyle and join the women's side with short hair.