Game of Thrones: an actress still angry at the end of the series "It makes no sense"
You still have not digested the end of Game of Thrones at the end of season 8? You are not the only ones. Natalia Tena – Osha's interpreter, was appalled by the level of writing and the choices made during the last episodes. Attention spoilers.
An actress angry at the end
With her role of Osha in Game of Thrones, it is logical to think that Natalia Tena loved the end of the series with regard to what was reserved for Bran, a character intimately linked to his. And yet, it is not so. Invited in the podcast White Whine Question Time with Kate Thornton, the actress has indeed claimed to hate everything that was put in place during the final episodes.
Finally almost everything. Natalie Tena still wanted to clarify at first, everything was not to be thrown during this season 8: " I loved it until Arya stabbed the Night King in the heart. I loved it so far. "And then? " After that … I did not understand anything anymore ".
A season 8 "that makes no sense"
Like many other fans, the Osha performer was disappointed with the writing of the latest episodes. While HBO was ready to give more time to creators, the latter – who no longer had George RR Martin's books to adapt – surprisingly claimed to be able to complete everything in just six episodes. It was bad for them, according to the actress: " The level of writing towards the end, with the intrigues, the twists and the way in which all this was concluded, when compared to any other season it gives the impression that it was written by different people, and I personally think it does not make any sense . "
Strong words? Yes, but at the height of his disappointment. If the star ensures not to join some viewers " I do not think I'll go so far as to sign a petition ", she does not stop, the conclusion was missed: " I do not understand why they made these choices (…) I had several glasses of wine in my nose when I watched the final and I started screaming at my boyfriend for almost an hour to tell him how much I hated the end. And then I called a friend and I got upset about it. "
The creative team behind the first spin-off will have a big pressure on the shoulders, that of reconciling the public with this universe …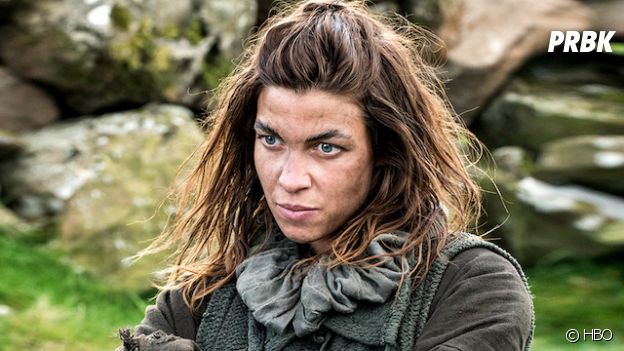 20 Best Romantic Movies that you can't miss
Do you like love movies? These are the best romantic films throughout the history of cinema.
If you're passionate about romantic movies, you definitely saw at least half of the movies on this list (or maybe all), which includes classic, comedy, tragedy, among others, but they all have something in common: love as the main element of history, that feeling that we could describe in a thousand ways and that these productions have shown us that even on the big screen we can continue to believe in it.
The romantic movie is a film genre characterized represent stories of love or looking for love accompanied by situations that hinder romance, for example, infidelity, incompatibility, money, illness, death. Although there are also situations in which the drama is not so extreme and funny situations make us enjoy these ideal movies to fall in love with.
Several of the following titles are available on streaming platforms such as Netflix, HBO Go, Amazon Prime, and on different pages that allow you to watch FREE ONLINE movies safely and legally.
20. ME BEFORE YOU
The life of Louisa Clark, a cheerful and crazy girl, who joins a job with another to help her family survive, changes completely when she starts working as a caretaker for a young millionaire, who became paralyzed after an accident Little by little, an increasingly intimate connection is established between them.
19. The Fault in Our Stars
Based on the novel written by John Green, Under the same star presents two teenage cancer patients who begin a journey to reaffirm their lives and visit a lonely writer in Amsterdam.
18. Silver Linings Playbook
After losing his home, work and wife and spending eight months in prison, Pat Solatano ends up with his parents. He is determined to rebuild his life and reunite with his wife, but his parents will be happy if he shares his obsession with the Philadelphia Eagles. Things get complicated when Pat meets Tiffany, who offers him help meeting his wife again if he does something very important in return.
17. PRIDE AND PREJUDICE
Based on Jane Austen's homonymous novel, Pride and Prejudice tells the story of the five Bennet sisters, who have a mother obsessed with finding them a husband. But one of them, Lizzie, intelligent and with character, wants a somewhat different life. At Mr. Bingley's welcome dance, a rich bachelor, Lizzie meets the handsome and elegant Mr. Darcy, but, at first glance, he seems too proud and arrogant, however, different situations will change his mind.
16. The Lucky One
Logan Thibault, US Navy sergeant, returns home from his third trip to Iraq with one thing he believes kept him alive: a photograph of a woman he doesn't know. He discovers that the woman's name is Beth and goes to see her, eventually taking a job in her family's kennel. Although Beth is full of mistrust and has a complicated life, a romance arises.
15. DEAR JOHN
An idealistic soldier and university student fall in love, but his love is marked by the many dangerous destinations to which John, the soldier, is sent. For seven years they usually communicate by letter, but this ends up bringing unexpected consequences.
14. TITANIC
Starring Kate Winslet and Leonardo DiCaprio, this film focuses on a young woman from society who abandons her arrogant suitor (Billy Zane) for a humble artist in the ocean liner that sank during her maiden voyage.
13. PRETTY WOMAN
A business executive tries to educate a vulgar prostitute, and make her his sophisticated company lady.
12. THE BRIDGES OF MADISON COUNTRY
Based on the novel by Robert James Waller, Madison Bridges shows the life of Francesca Johnson (Meryl Streep), a housewife who lives on a farm with her family, and Robert Kincaid (Clint Eastwood ), a veteran photographer of National Geographic magazine, who visits Madison County (Iowa) to photograph its old bridges. When Francesca invites Robert to dinner, true love and an unknown passion will be born between them.
11. 10 THINGS I HATE ABOUT YOU
The Stratford sisters are very different: Bianca is the popular sister who has never dated a boy, while her older sister Kat is somewhat unfriendly and with a bad temper. Bianca meets Cameron a new boy at school who falls in love with her, but only has one impediment from Bianca's father: she can only date a boy once her sister does it first. Cameron and his friend Michael devise a plan for a rich boy, Joey Donner to hire a boy to date Kat. The chosen one is Patrick Verona, a gloomy boy with a mysterious past and a somewhat dubious reputation.
10. The Vow
Paige (Rachel McAdams) and Leo (Channing Tatum) are a happy couple of newlyweds, but their idyllic life together ends when a car accident leaves the woman in a coma. When Paige wakes up, she has lost her memory and does not recognize Leo. She also has a confusing relationship with her parents and retains her feelings for an ex-boyfriend. Despite the problems, Leo is determined to rebuild his marriage.
9. Brokeback Mountain
Two young people meet during the summer of 1963 while working on sheep grazing on Brokeback Mountain in Wyoming. Ennis and Jack fall in love, but society's pressure will endanger their lives and dreams.
8. postscript, I LOVE YOU
A widow (Hilary Swank) is a series of distressing messages left by her late husband to help decrease your pain and encourage them to start a new life for herself.
7. 500 DAYS WITH SUMMER
Tom, a greeting card writer and a desperate romantic, is totally surprised when his girlfriend, Summer, suddenly leaves him. He analyzes the 500 days they spent together to try to discover where their love relationship failed and in the process, Tom rediscovers his true passions in life.
6. GONE WITH THE WIND
Set in the Civil War, What the wind took is centered on the life of the petulant southern beauty Scarlett O'Hara. From the idyllic hospitality of its great plantation, the film tells its survival through the tragic history of the South during the Civil War and Reconstruction, and its amorous entanglements with Ashley Wilkes and Rhett Butler.
5. CASABLANCA
Casablanca is one of the masterpieces of romantic cinema, set in the Moroccan city of Casablanca during World War II, and presents the owner (Humphrey Bogart) of a coffee that should help his ex-girlfriend (Ingrid Bergman) and her husband (Paul Henreid) to escape from the Nazis.
4. GHOST
A couple in love sees their happiness truncated when Sam (Patrick Swayze) is killed by a thief. Although everything looks like an accident, the reality is different, and thanks to his return as a ghost to protect Molly (Demi Moore), the whole truth is discovered.
3. LOVE ACTUALLY
In London, shortly before Christmas, a series of fun and moving stories are intertwined. A prime minister, an old rock star, a Portuguese assistant who only speaks her language, is related to the funniest, sad, naive and stupid aspects of love.
2. A WALK TO REMEMBER
This movie starring Mandy Moore and Shane West tells the story of a young offender who is forced to perform in a school play and begins an affair with the daughter of the town's reverend.
1. The Notebook
The Notebook focuses on Noah Calhoun and Allie Nelson, young people in love with North Carolina, from different social classes, who, despite the time, distance and traps of their families try to stay together.
BONUS TRACK
1. NOTTING HILL
Hugh Grant and Julia Roberts play the couple with the most breakups in a two-hour movie. The British actor plays the owner of a bookshop in Notting Hill who meets a movie superstar who comes to his shop to buy the worst travel book he has chosen. He, with his distracted personality, quickly becomes the lifeline of a young artist who seeks to escape the difficult world of paparazzi.